We care about your gut health
We have analyzed over 10,000 intestinal flora and learned one important thing. A sore and awkward stomach is a problem that many people struggle with. We want to change that.
Products for your gut health
We have observed that many people with stomach problems may have an overgrowth of bacteria in the small intestine (SIBO). We want to give you an opportunity to gain control over your stomach and intestinal flora, since an unbalanced stomach can affect your well-being and your resource strength in everyday life.
GutClear™ - 390 SEK
GutClear® is a plant-based patent-pending SIBO supplement for a sore and swollen stomach and issues related to a leaky gut. The product is designed to balance bacterial and fungal overgrowth in the small intestine without affecting the beneficial intestinal flora in the colon.
Why GutClear™?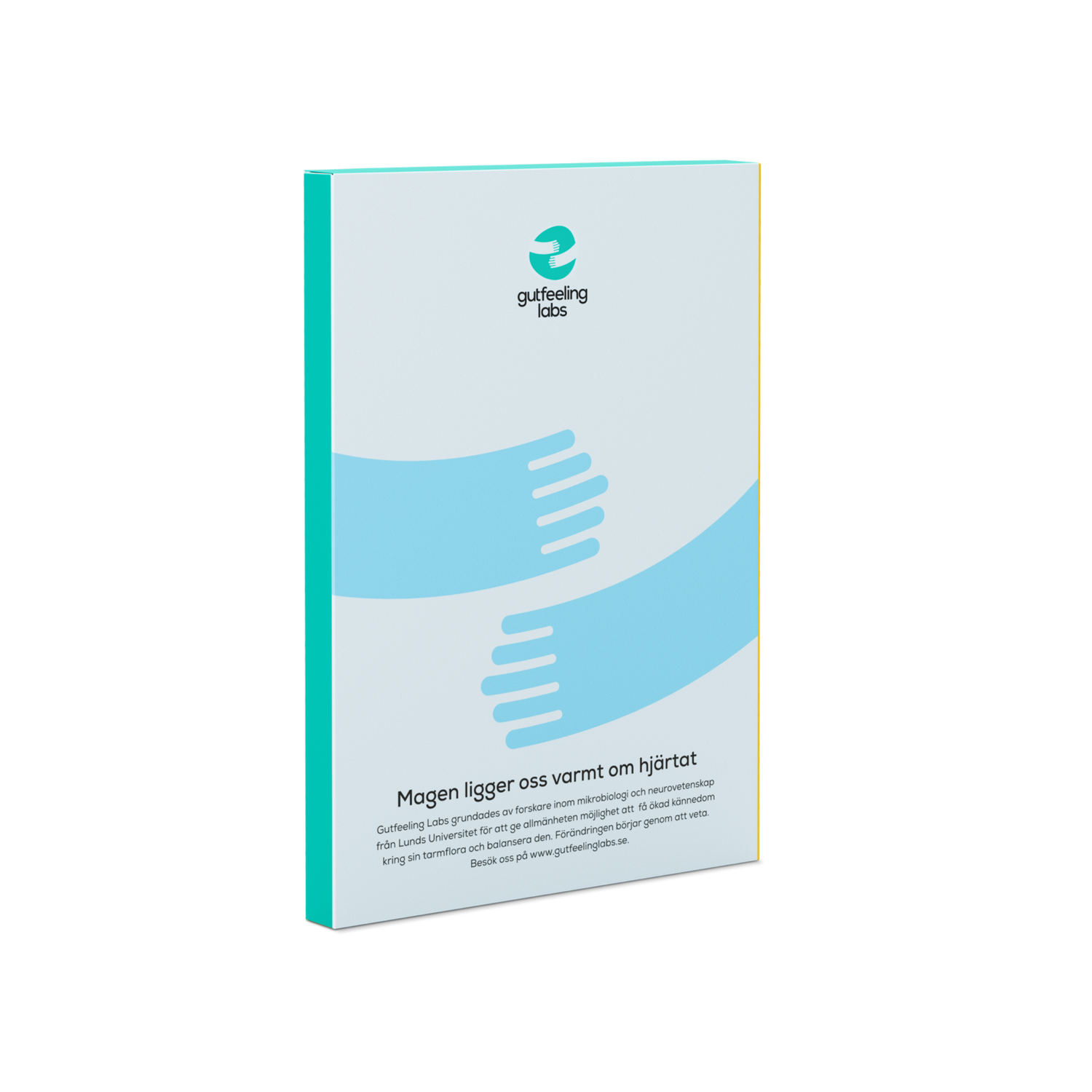 Gut microbiome testing - 1 290 SEK
With our gut microbiome analysis you get to know your gut bacteria and receive dietary advice based on your unique gut flora profile.
Test your gut flora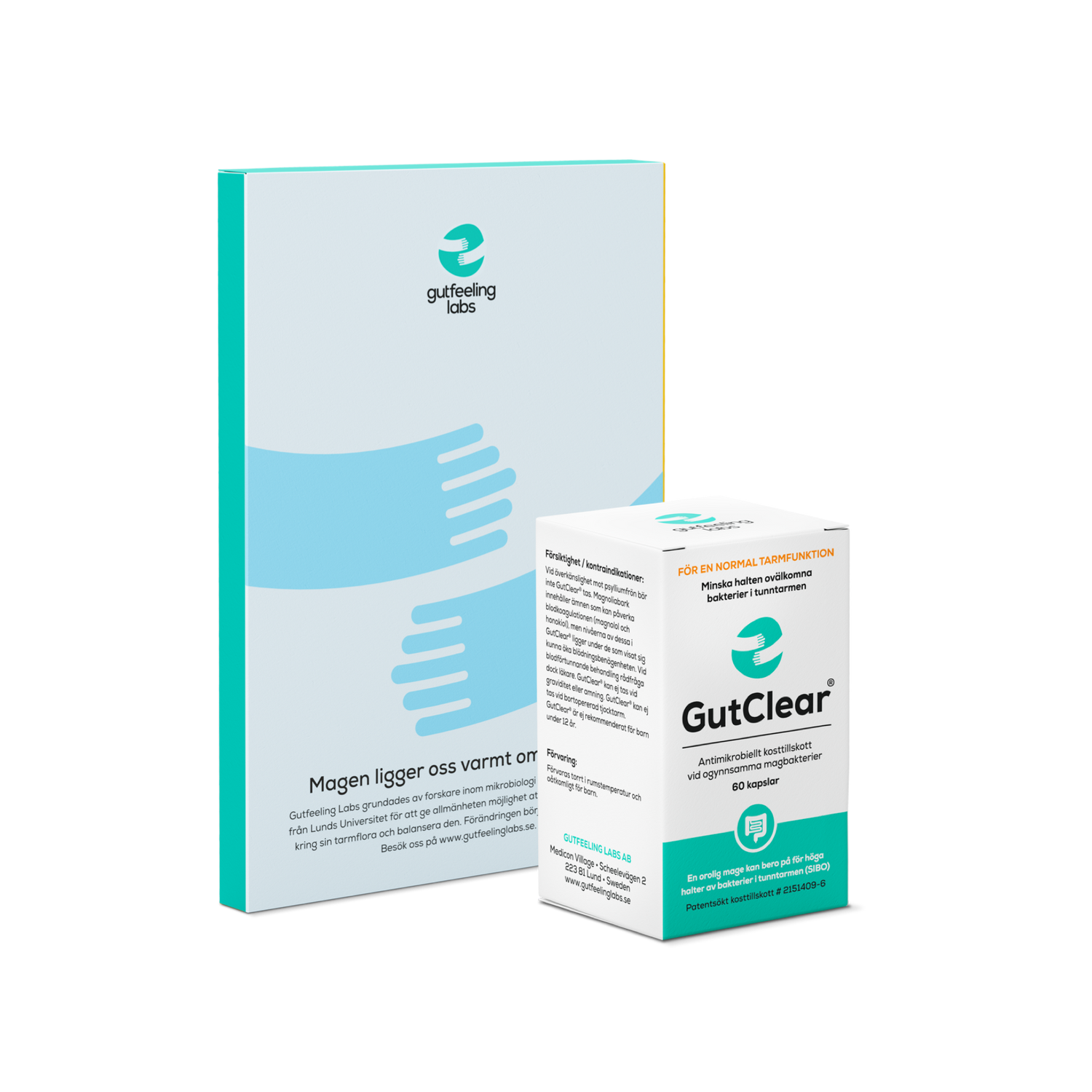 GutKit - GutClear™ and gut microbiome testing - 1 490 SEK
Take a holistic approach to gut health by trying GutClear™ and a gut microbiome test. Get more relevant and valuable dietary advice based on the profile of the intestinal flora after GutClear™.
Buy GutClear™ and analysis of the intestinal flora
Said about us
"My situation was so chaotic with stomach pains, gas, but also joint pain. I took GutClear and after just a few days I was completely fine..I also feel calmer and more balanced. Now I'm excited to continue with the dietary advice you give when you get your test results. Thank you for all you do for those of us who live with these problems on a daily basis."
‐ Erika - GutClear™ 
Gut microbiome testing
"I am a very satisfied customer who will return and do several analyzes to see if I can improve my intestinal flora further through their dietary advice. A health investment at a good price. Recommends everyone to do an analysis of their intestinal flora as a step in being able to influence their health."
‐ Elin Jarmosdotter -
Gut microbiome testing
"I tried GutClear and noticed a difference already after a few days, although still nauseous while I used GutClear but this subsided after the last dose on the 10th day. Since then I have felt much better and my stomach is now cooperating with me! Now I can follow the dietary advice I received in connection with my analysis at Gutfeeling Labs and I have also eaten fish, especially salmon several times without problems, both oven baked and hot smoked and I am very happy for that :)"
‐ Selma - GutClear™
About Gutfeeling labs
The gut is close to our heart
Gutfeeling Labs was founded by researchers in immunology, microbiology and neuroscience from Lund University. The company's vision is to make it easy for the public to keep track of their gut health.
Gut health
The composition of the gut flora makes a difference
Recent research shows that certain intestinal bacteria may be associated with IBS and type-2 diabetes, but also with persistent symptoms of Covid-19 (long-term covid). With our gut microbiome test, you get an overview of all the bacterial flora of your intestinal flora, both the so-called good and less good ones, as well as receive advice based on your gut microbiome test results.